DESCRIPTION
COMPOSITION
MAKE-UP TIPS
Once upon a time there was a lively little frog, who was waiting to be kissed by its beautiful princess! Now it has turned into a make-up kit, so cute it will win you over. Inside, a really complete range of make-up products to create looks for every occasion. A radiant face skin, that looks homogeneous and natural, magnetic eyes and perfect, moisturized and colored lips. Plus, a handy mirror, perfect for on-the-go touch-ups. A wonderful gift! Go ahead and turn the little frog into a prince!
Made in Italy Quality & Design
2 concealers
1 bronzer
2 cream blushes
2 all overs
1 eye primer
6 compact eyeshadows
2 applicators for the eyes
1 lip balm
4 lip creams
3 lip glosses
1 applicator for the lips
mirror
Face: use concealer to minimize dark circles and small skin blemishes. Apply bronzer on cheekbones and face contours to enhance its features. Pick up a small quantity of blush with your fingertips and blend by tapping on cheekbones. Use the all over to create highlights on cheekbones, bridge of nose and Cupid's bow. It is also perfect to illuminate the décolleté.
Eyes: apply primer and then eyeshadow. Use the lighter shades next to the tear duct and below the eyebrow arch to get highlights. Use the medium shades on the mobile eyelid and the darker ones to intensify the tail of the eye and make it look optically longer. Use the given applicator.
Lips: apply lip balm to always have moisturized and soft lips. Use the lip cream all over your lips and a bit of gloss only at the center for a 3D volume effect.
YOU MAY ALSO BE INTERESTED IN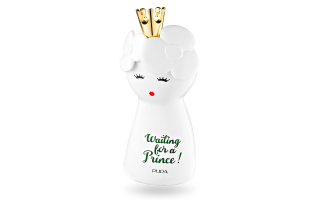 Make-up Kit.
Waiting for a Prince!

The pleasure of a delicate and embracing fragrance.
Available in 6 variants