Anti-Cellulite Active Concentrate
Fights cellulite and slows down its return.
Patch effect with prolonged release.
Details
https://www.pupamilano.com/skin-care/body/anti-cellulite/anti-cellulite-active-concentrate/0TE008001E.html
An intensive treatment against the unaesthetic effects of evident and deeply rooted cellulite.
With a double action:
1. It reduces fat deposits, giving back tone and smoothness to the skin, making your silhouette look lighter. -3cm of thigh circumference in 4 weeks
2. The results reached last in time, up to 30 days from last application, thanks to a complex of active ingredients*
Its gel texture gets absorbed quickly.
Result: orange peel look and unaesthetic effects of cellulite are reduced, the silhouette looks lighter. Skin is smoother and firmer. First results are visible after only 2 weeks. "No return" effect for 30 days after last application.
*PROVEN EFFICACY:
The efficacy of the treatment was tested on 70 women. After 4 weeks of use twice a day, the Dermatologist reported an average reduction in thigh circumference of 3.07cm in women who used Anti-Cellulite Active Concentrate.
After 30 days after last application the Dermatologist confirmed that the reached results are maintained in their mean values. Test was carried out with double blind placebo controlled trial. 35 women used Anti-Cellulite Active Concentrate and 35 women used Placebo.
Low risk of allergies
Dermatologist tested
Paraben free
Made in Italy
Anti-Cellulite and "No Return" action: a mixture of Vegetable Extracts – like for example Ginger - slows down fat accumulation, stimulates lipolysis and re-balances skin tissues. It acts as a diet for the skin, by reducing the presence of fatty acids and it helps it to get a healthy look in time slowing down the return of cellulite.
Draining and Anti-Accumulation Action: Escin facilitates the regular function of microcirculation and the draining of liquids from the skin, Caffeine helps reduce fat deposits in the adipose tissue.
The HA Patch Complex Concentrate contains Hyaluronic Acid with different molecular weights. Hyaluronic acid with high molecular weight creates an invisible film on the skin that works as a skin patch, which facilitates the penetration of active ingredients and enhances both short and long term effectiveness. Hyaluronic acid with low molecular weight regulates the balance of liquids in skin tissues and has a firming and invigorating effect.
Low risk of allergies
Dermatologist tested
Paraben free
Apply and massage with energetic circular upwards motions, pressing slightly on critical areas. Initial phase: apply daily, in the morning and in the evening for at least 4 weeks. Maintenance phase: apply once a day. Results are maintained up to 30 days from last application. Then start again with a daily application.
YOU MAY ALSO BE INTERESTED IN

Lipo-filling and firming action: breasts are fuller and firmer. +1cm in 8 weeks*.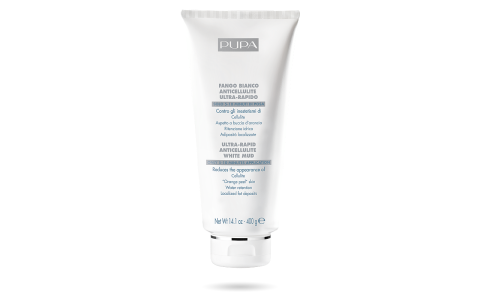 Ultra rapid: works in 5-10 minutes. Purifying and draining for a brand new silhouette.

Pupa's iconic mascara, here in its Extreme version. Immediate extreme volume, with a dramatic effect.