SALT SCRUB and SCENTED WATER PURIFYING REINVIGORATING
A real multi-sensory ritual for the wellbeing of your mind and body.
Details
https://www.pupamilano.com/skin-care/lines/home-spa/salt-scrub-and-scented-water-purifying-reinvigorating/0TE045A001.html
The brown algae extract gives your skin a more toned and healthy appearance. The citrus notes of the orange, bergamot and neroli aromatherapy oils help to dissolve tensions and transmit positivity, for total harmony. The mint and eucalyptus aromatherapy oils give vigour, acting like a real "psycho-physical toner".
Contains:
Salt Scrub with an intense exfoliating, smoothing and anti-water action for firmer skin and a reshaped silhouette.
Unisex fresh Scented Water, a sophisticated combination of aromatic woody notes and citrus notes.
YOU MAY ALSO BE INTERESTED IN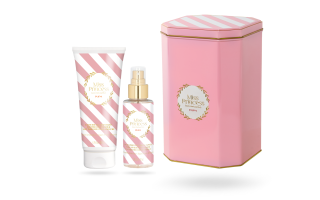 Available in 6 variants